All Termite Problems Are Not The Same
With our years of experience we can identify the best solution to your particular problem.
Termite Treatment Options for Southern California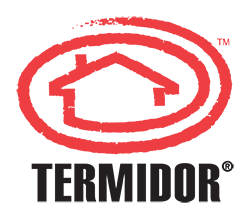 Termidor® is a low dose treatment with no odor, that can only be applied by a Termidor®-Certified Professional. Termidor® is a slow acting chemical that kills termites by ingestion, contact, and the "transfer effect", meaning that infected termites help spread Termidor® throughout the colony before dying themselves.
Imagine a new chemical technology that is undetectable by termites. They cannot see, smell, taste or avoid it. Termidor® is long-lasting and slow killing so that when termites become infected by it they will transfer it to other termites deep within the colony.
Advantages: Of course, no moving out overnight.
No need to remove plants or board pets.
No bagging of food or medicine.
No walking on the roof.
Controls Drywood and Subterranean Termites
No chemical odor left behind
Low dosage provides years of control
Excellent for preventative soil treatments
About Termidor®
Termidor® is made from a revolutionary new nonrepellant or "undetectable" chemical technology. That means termites cannot see, smell, taste, or avoid it. Instead, they contact, ingest and share Termidor®, completely unaware that doing so will inevitably kill them. In numerous trials across the United States and around the world, Termidor® has consistently proven itself to be the most effective and fastest at completely eliminating termite populations. And, Termidor® is proving to be equally effective in keeping termites from coming back.
Quite simply:
Termidor® is the most effective and fastest local treatment when it comes to completely eliminating termite populations in treated areas. So it's not surprising that millions of homeowners have made Termidor® the #1 termite defense product in America. When it comes to termite protection for your home, ask for the product that's #1, ask for Termidor®.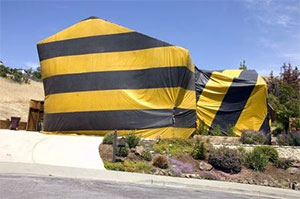 Fumigation involves covering of the residence with a tent and pumping Vikane Gas into the property. The complete fumigation process takes three days and occupants MUST be vacated from the premises. Although more expensive and troublesome to occupants, fumigations are the #1 method of eliminating drywood termite infestations. For more information on whole house fumigation, visit our Structural Fumigation page.
Localized treatment or "Spot" treatment has many benefits to the homeowner, one being that it is much cheaper than fumigation. Once a complete inspection has been performed and a determination is established that the infestation is accessible for treatment, then it is possible to use localized treatment methods to control the termite colony.
Protect the most valuable investment with an annual inspection and treatment contract. BPC's Annual Control Service Contracts are the most competitive in the industry and offer protection of drywood termites and subterranean termites. At any time you see what you think might be termites during your contract you may simply call the office and we will be at your door to take a look at the problem and complete any necessary treatment.
Our Customers Say
"I first came across BPC Pest Control while looking for a company to fumigate our home for termites. Both the office staff and the technicians were very helpful, professional and friendly – they answered my questions and explained everything that needed to be done. Since then we are also using them on a monthly basis for the control of spiders, which we love. If you are looking for a friendly and honest company, BPC is the place to call."
"My wife and I were very impressed with the professional, courteous team from BPC Pest Control. From our initial call, to the inspection, to the extermination, and finally the repairs, everyone was really great. Thank you for doing such good work for us!"
We want to help you get rid of pests. If you have questions or would like to schedule a free limited inspection, please let us know.